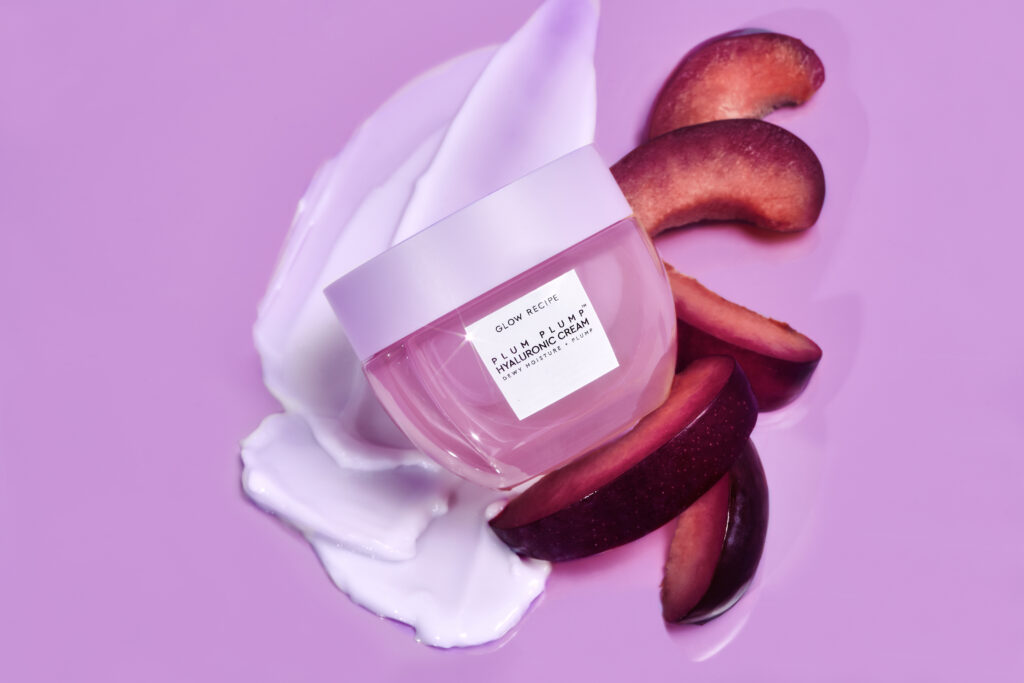 A moisturizer that feels like a gel, works like a cream, and works to hydrate, plump, and balance skin in one step? Yeah, our Plum Plump Hyaluronic Cream is unlike any moisturizer you've tried before. Wondering what makes it so incredible, how it will work for you, or how to use it in your routine? Keep reading for the answers to all of your pressing questions.
THE INGREDIENTS
What is Polyglutamic Acid?
Polyglutamic acid is a hydrating peptide that boosts the efficacy of hyaluronic acid and helps to lock in moisture! The polyglutamic acid in our Plum Plump Hyaluronic Cream is composed of both high and low molecular weights, with the high molecular weight leaving a silky-smooth finish that seals in moisture and supports the skin barrier. The low molecular weight increases hyaluronic acid content by inhibiting hyaluronidase activity (the enzyme that breaks down hyaluronic acid) to provide long-lasting moisture.
What kinds of Hyaluronic Acid, and how many molecular weights, will you find in this moisturizer?
Our Plum Plump Hyaluronic Cream formula contains a powerful blend of 5 weights of hyaluronic acid that hydrate layers of skin for plump, bouncy-looking skin! It contains HA 5, which forms a 3-D sponge-like film on skin to protect against environmental stressors; Tremella HA, which is obtained from fermentation of Tremella mushroom and helps to repair barrier damage and prevent moisture loss; Flashfill HA, which is a new generation of HA that behaves as a filler by penetrating deeply into skin to plump lines; and Bio HA, a powerful HA with moisturizing and water-retention properties. (If these sound familiar, that's because they're the same hyaluronic acid forms that are also inside our cult favorite Plump Plump Hyaluronic Serum!)
What types of plum are in this formula, and what do they do?
Plum Plump Hyaluronic Cream contains the three antioxidant-rich plums also found in our Plum Plump Hyaluronic—Kakadu, Illawarra, and Burdekin. Not only does plum help synthesize the skin's natural hyaluronic acid production, but it also hydrates, nourishes, and rejuvenates skin instantly and over time. Fun fact: Kakadu plum also contains high concentrations of vitamins C, A, & E, and Burdekin plum is rich in minerals magnesium, calcium, zinc, and potassium! 
We source ingredients with a lower environmental impact when possible. This Cosmos-certified blend of plum extracts uses all parts of the plum and is hand harvested by a family-owned organic farm in Australia!
What are the skincare benefits of Ice Willowherb?
A big portion of Plum Plump Hyaluronic Cream's balancing power comes from glacial willowherb, which contains naturally-occurring Oenothein B and flavonoids that balance oil production and support a healthy skin barrier.
Are the fragrance and color natural?
Yes, both are 100% naturally derived! The natural fragrance in our Plum Moisturizer is derived from materials of natural origins, like fruit, vegetables, and plants. We formulate using the minimum amount of fragrance, when needed, to create a sensorial, enjoyable skincare experience. Fragrance is always less than 0.5% of our formulations, and all fragrances are vegan and free of PCM compounds, acetone, and much more.
The natural, beautiful hue of our Plum Moisturizer is created from natural plant extracts such as Melia Azadirachta Leaf Extract, Melia Azadirachta Flower Extract, Corallina Officinalis Extract, and Coccinia Indica Fruit Extract.
WHEN TO USE
What's the difference between Plum Plump Hyaluronic Cream, Watermelon Pink Juice Moisturizer, and Banana Soufflé Moisture Cream?
Our Plum Moisturizer is a whipped, gel-like cream that contains polyglutamic acid, hyaluronic acid, and antioxidant-rich plum to help balance and plump the skin! Our Pink Juice Moisturizer is an oil-free, lightweight gel lotion that contains watermelon and hyaluronic acid to soothe and hydrate. And Banana Soufflé Moisture Cream is a bouncy, fast-absorbing cream that contains banana and centella asiatica to nourish, soothe, and calm the skin.
How do I know which moisturizer to use?
Since your skin and its needs change every day, we believe in Taking it Day by Day, Skin by Skin™ (for more on that, click here). That's why we always have a skincare wardrobe packed with different products to pick and choose from for a personalized daily routine. Follow this handy guide to find the right moisturizer for you:
Is this good for my combination skin?
Absolutely! In fact, this moisturizer was made with combination skin in mind. You may have combination skin if you feel your skin is unbalanced—you may feel oily and still have flaky patches, or feel dry, yet breakout-prone. Hydration and barrier support is essential for helping to balance combination skin types, and the Plum Plump Hyaluronic Cream is packed with hydrating, moisturizing, and balancing ingredients to help you achieve your healthiest, most balanced skin.
Is this good for my dry skin?
Yes! Our Plum Moisturizer is great for dry skin types, thanks to its creamy, whipped texture and hydrating ingredients such as hyaluronic and polyglutamic acids!
Is this good for my oily skin?
Yes! Our Plum Moisturizer is great for oily skin types, as its non-greasy, creamy texture absorbs nicely and helps to hydrate the skin from within.
HOW TO USE
How do I use this product?
After serum, smooth a dime-sized amount of Plum Moisturizer onto clean skin morning and night. Gently pat into skin until fully absorbed!
Can I use it day and night?
Yes! It was formulated to use in your daily and nightly routines to help give you long-lasting, plump hydration. 
Are there any other ingredients to avoid when using this moisturizer?
This formula is safe to use with other ingredients, but as always we recommend patch testing before use, especially if you have sensitive or sensitized skin.
HOW TO SHOP
Where will it be available to shop?
It launches exclusively on the Sephora app today 12/6. 
Starting 12/7, you can shop it on sephora.com in US and Canada, glowrecipe.com, Cult Beauty, and Mecca in Australia and New Zealand.
Stay tuned: 
12/17 – In stores at Sephora US and Canada
12/17 – Sephora Inside JCPenney
12/17 – Sephora at Kohl's
12/28 – In stores at Mecca Australia and New Zealand
1/6/2022 – Sephora Singapore, Malaysia & Hong Kong
March 2022 – Douglas Germany
March 2022 – Sephora Middle East